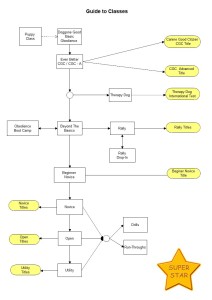 Is your dog having more fun in your home than everyone else in the famliy? Is your couch shredded? Maybe his morning is complete only after he's pulled your wife down the street a time or two. Once the front door is open, forget about it. Come when called? You've got to be kidding. The games have begun.
Class Policies:
Class registration closes 24 hours in advance of the class start date. You must pre-register online or by completing a class registration form in order to attend a class. Classes are subject to cancellation or date changes at the discrection of OTCPBC training staff.
Because class size is limited and sufficient time is necessary to contact alternate students, class tuition may only be refunded if notice, in writing or by email, is received seven (7) business days prior to the start date of a class by the instructor or the director. OTCPBC does not offer partial refunds, make-up lessons, private instruction in lieu of group classes, or the transfer of monies from one class to another.
Please bring proof of DHP, bordetella, and rabies (as age appropriate) the first night of class.
Please print the following letter containing information about club policies and directions to the facility after you register for class.
Doggone Good: Basic Obedience
If this is your story, we have a plan for you. Our Level 1 class will transform your dog from irreverent and out of control to happy and skilled at basic dog obedience life skills. We know you think there's no way he'll lie down and stay for three minutes, but in our skilled instructor's hands, he will.
Content:
Walking without pulling
Sit
Down
Come when called
Stand
Stay
Duration: 7 weeks
Cost: $125.00 ($20 discount for club members) + $4 processing fee for online registration
Next Class:
Start Date: Thursday, January 15 @ 6 pm
Instructor: Peggy DeMinico
Cost: $125 nonmembers/$105 members
Duration: 7 weeks
Even Better: Canine Good Citizen/Canine Good Citizen Advanced
This class follows Doggone Good: Basic Obedience. Once your dog understands the basics, the two of you are free to develop a working partnership. This class prepares you and your dog to pass the American Kennel Club Canine Good Citizen exam. Skills: Walking without pulling; saying hi without totally losing it; coming when called; sit/stay and down/stay for a long period of time; working around other dogs calmly. CGC and CGC-A exams offered after 7 weeks of class.
Next Class:
Start Date: Thursday, January 8 @ 8:00 pm
Instructor: Peggy DeMinico
Assistant: Charlotte Czermann
Cost: $125 nonmembers/$105 members
Duration: 7 weeks
Canine Good Citizen Exam
Date: January 7, 2015, 6:30 – 8:30 pm
Date: February 26, 2015, 7 – 9 pm
Canine Good Citizen – Advanced Exam
Date: January 19, 2015, 7-9 pm
Novice: Companion Dog (CD)
For many, an important stepping stone into competitive Obedience begins with the Companion Dog (CD) title. Ready to try? We bet your dog is.
Pre-requisite: Beginner Novice, Rally Novice, or permission of instructor.
Our experienced instructors will cover:
Show ring heeling
Figure 8
Stand for examination
Off-leash heeling
Recall
Long Sit/Stay and Down/Stay
Obedience Drill
Start Date: Mondays, 5:15-6:15 pm
Instructor: Betty Gansky
Cost: $10 nonmembers/$8 members
Duration: Ongoing
Rally
Rally Drop-in
Start Date: Wednesdays @ 8 pm
Instructor: Peggy
Cost: $10/$8
Duration: Ongoing.
Our Rally Drop-in class incorporates Novice, Advanced, and Excellent signs. It is not a class and assumes some familiarity with most rally signs. Please come practice with us.
The second ring is open during Drop-in so you can practice signs you and your dog have not mastered (Backup 3 Steps, etc.)
Questions about Obedience?
Contact us at otcpbc@gmail.com