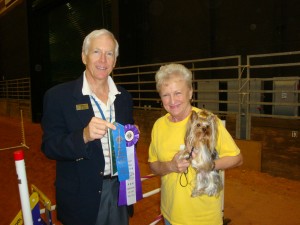 Hi All,
Angel & I competed Friday & Saturday at an Agility trial in Arcadia, FL. She won 1st place & earned her title in Agility Excellent Jumpers (AXJ). This picture shows us with Judge Greg Beck holding her new title, blue & qualifying ribbons.
Today we were in Master's Excellent & Master's Jumper's w/Weaves. She qualified in both classes to earn her 1st double Q & her first 10 points towards her Master Agility Champion – MACH.
Angel has earned 7 titles since Jan of this year: Beginner Novice – BN, Open Agility – OA, Open Agility Jumpers – OAJ, Agility Excellent – AX, Companion Dog – CD, Rally Novice – RN & Agility Excellent Jumpers – AXJ.
She is a TERRIFIC companion & teammate!
–Betty Gansky