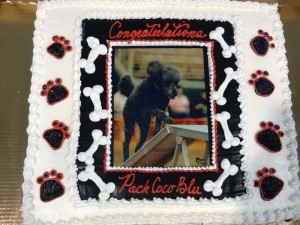 by Tricia Boychuk
It is with great pride that I announce that on July 27, 2012 my beautiful poodle, Coco, earned his PACH (Preferred Agility Champion) title in Bainbridge, Georgia. Coco is now officially known as: PACH Kaylen's Coco Blu, VCD2, UD, RE, MXP3, MSPB, MJP3, MJPB, PAX, TD.
Our journey to the Championship was incredibly special and started about a year ago, in July 2011. As I was surfing the AKC website, I checked out Coco's stats page. I noticed that he had 4 double qualifying runs (the coveted double Q – earned by running clean in Excellent B Standard and Jumpers courses on the same day) and 231 points (number of seconds under course time earned for clean runs). He was quite a way from the 20 double Qs and 750 points needed for the title, especially since he was 7 years old and hadn't competed in agility for about a year.
The challenge was certainly tempting, and I took the next month to meet with my trainer/coach, vets and chiropractors to discuss the possibility of running Coco at that level. After receiving clearances and thumbs up from everyone, we embarked on our course, starting with a double Q in the Miami show in October 2011 and ending in Bainbridge on July 27, 2012. The middle was filled with lots of travel, conditioning and practice! I love the title, but the bond formed with my fantastic partner proved to be something I never contemplated. We became a steady team where he could rely on my directions and I could rely on him to run the course. In fact, Coco proved to be so consistent and steady that he was ranked #5 in the AKC Top 5 Mid-2012 Stats!
I love my poodle and am grateful to have shared the experience. For anyone who is nervous to enter a ring and work with your dog, just step up and do it. It's an experience like nothing else!