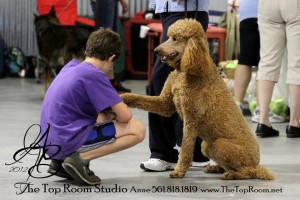 Please email me with new information from the Indian River dog obedience trial…
Bob and Thunder got two legs on their Novice title.
Bob Becker finished 2nd in Open B after a tough run-off with Rachel Flatley.
Page was in the Open and Utility rings, but I have no news yet.
Patty finished her Beginner Novice title with a third place finish.
Marti got a Q on Fizz in Graduate Novice.
Liese was supposed to smoke us all in GN but Cali came in heat.
Betty was there; I am sure did great, but I have no news…
Thanks to Kathy Nilan and the Indian River club for organizing such a nice trial. We love the new venue!
See everyone later today!
–MH