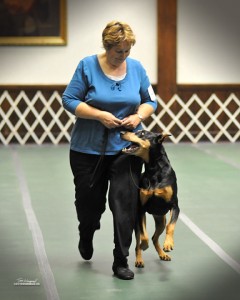 Our seminar with JoAnne Brettschneider is just around the corner!
If you want help with your heeling, and your obedience work could use an infusion of enthusiasm, don't miss our seminar with JoAnne Brettschneider:
Jan 19-20, 2013
Saturday-Sunday
Join us for one or both days and learn from one of this year's National Agility Invitational participants — and no, she didn't go with a Border Collie!
JoAnne Brettschneider has also managed to place three of her Dobermans in the DPCA Top 20 in the same year. I can barely get my three dogs to the Novice ring on time!
Location:
Obedience Training Club of Palm Beach County
1250 Gateway Road
Lake Park FL 33403
JoAnne's seminar will center on using motion to develop focused heeling and create enthusiasm and drive in your dog.
Bio:
JoAnne Brettschneider has been training for over 35 years. Her Champion Greyhound was the #1 Greyhound in the country in obedience in 1982. JoAnne's current dogs have taken over 20 High in Trials. JoAnne was the 2008 and 2009 DPCA Top 20 Obedience Winner.
We've seen her in action, and this is what we like best about her approach:
* Unique way of teaching motion as the foundation to focus
* New, fresh ideas on how to improve your competition performance
* Not sure about how to lose the food? Worry no longer!
Audit Spots: $110 (both days); $75 (single day). Checks should be made payable to OTCPBC.
For more information, contact: Lieselotte Hookey at 561-313-2771 or liloudt@aol.com.
Our friends in central Florida who have worked with her have said she is terrific. Don't miss this opportunity to work with a fresh, exciting trainer who will motivate you and your dog to new levels of performance!
Other Details: