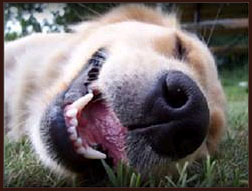 Are you looking for fun activities that can be done indoors or outside? Dogs use their noses all the time to process their environment. They are aware of and processing more smells all the time than we could ever do. Watching a dog use its nose is lots of fun, improves your observation skills and helps you better understand your dog.
Opportunities to observe scenting activity present themselve daily. A dog searching for a ball or toy, dogs examining each other or showing interest in your clothing when you return home are just a few examples.
This class will use food and containers to provide structured searches. As your dog's commitment to hunting for the food increases, you will learn to structure increasingly complex searches. The result? Increased confidence, depth in your relationship, and a dog that has less free time on his hands.
One dog works at a time. When not working, each dog will be secured in a crate. Handlers must supply their own crates. There will be space to crate in the building. Dogs must have basic home obedience skills, especially loose leash manners. Sorry, but this is not a class for reactive dogs.
Start Date: June 27, 2015 @ 10:00 am
Instructor: Judy McPartland
Duration: 7 weeks
Cost: $125 (20% discount for club members who worked 20 hours in 2014)