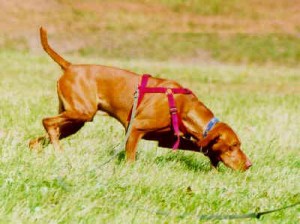 Introduction to Tracking
We are pleased to announced that an Introduction to Tracking class has been added to our schedule. Here are the details:
Date: April 29, 2013 (Monday)
Time: 6-8 pm
Location: Okeeheelee Park (Palm Beach County)
Instructors: Fran Smith and Jane Craig. Both are licensed AKC tracking judges.
Cost:  $37 nonmembers/ $27 members
This is a one-time event and not a series of classes. You may pay online at:  http://otcpbc.org/tracking/
Please fill out this PDF, scan it, and upload it to trackingdirector@gmail.com:   IntroductiontoTracking
If you are unable to scan the form, or for more information, please contact trackingdirector@gmail.com
You may also pay by check (made out to OTCPBC) or cash when you arrive. However, please contact the Tracking Director to secure your working spot and to learn what materials you need to bring. She will also need to know your dog's weight, breed, etc. ahead of time in order to supply you with a loaner tracking harness. You may reach her at trackingdirector@gmail.com.