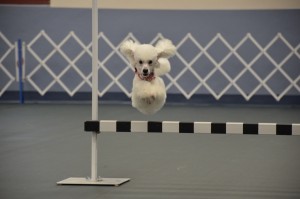 Join Kathie Kryla, assisted by Bobbie Blythe, to find out fun ways to start the utility exercises. Kathie has had an OTCH, as well as many UDs, UDXs and HITs with several dogs. Bobbie also has many years' experience training dogs and has had several UDs and HITs. This class will explore innovative ways to teach these exercises.  If you have wanted to start the utility exercises but were not sure how, come join us, even if your dog is very young.
* Signals
* Scent Discrimination
* Directed Jumping
* Directed Retrieve
* Moving Stand
This class is for handlers who have NOT trained a dog to a UD.
Dogs may be working at low level, but must be under control. Dogs without a solid recall will work on a long line or Flexi. Please come with a positive attitude and be prepared to try new and different methods.
 Start Date: Wednesday, July 15 @ 5:00 pm
Duration: 7 weeks
Cost: $125/20% off for members who worked 20 volunteer hours in 2014.
 To register:
 http://otcpbc.org/class-registration/?class_select=3158