Lark finished her Companion Dog Excellent title this weekend. Thanks to show miles,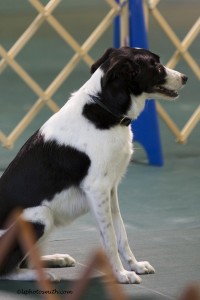 playtraining, food games, and a happier perspective from yours truly, she has changed from a dog that let me walk the heeling pattern alone to a reliable show partner. She would still rather kiss the judge and then be done, but she knows her job and does it. She placed second on Saturday and won the class on Sunday.
I have learned so much from Lark, but the most important lessons are these:
* Wait on your dog.
* When you hit a problem, train through it. Never give up.
On to Utility!
–Marti