In Memory of
Mary J Happersett
The Mary J Happersett Award will be awarded to the highest scoring
Non-OTCH Dog/Non-OTCH Handler at each obedience trial.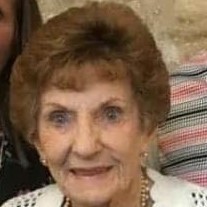 Mary J Happersett loved dogs and her life was enhanced by those in the dog world. She enjoyed being a breeder, trainer and judge. She was immensely proud of the Dachshunds and Corgis she bred in the '70's thru the1990's. She received many awards over the years. In her later years she enjoyed her Papillon & Yorkie.
She had a passion for being a fair and competent Obedience judge. There were very few times a handler left the ring without a thought or suggestion of encouragement from Mary.
Receiving the Gaines Medal of Good Sportsmanship was one of her greatest honors. Getting a few Best Breeder and Highest Scoring Dog in trial also meant a lot to her.
Mary J Happersett
Past President of the Obedience Training Club of Palm Beach County
AKC Obedience Judge