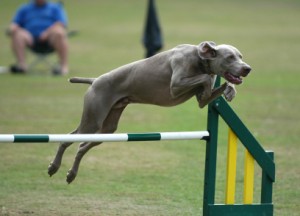 We are pleased to announce that Lindsey Smith will be teaching an Introduction to Agility class beginning on Monday, January 20, 2014.
Details:
Start Date: January 20, 2013
Time: 7-8pm
Duration: 7 weeks
Instructor: Lindsey Smith
Location: OTCPBC Clubhouse (indoors)
Cost: $120 nonmembers/$100 membersPrice: $120 nonmembers/$100 members
Note: $3 processing charge added for online payments.
Class Size: 8 handlers accepted.
What will your dog learn?
Dogs will learn how to jump safely; approach and get off of contact obstacles like the dog walk and A-frame; and balance on fitness and agility practice obstacles to prepare them for running, jumping, and turning quickly. You will enjoy bonding and working with your dog in this engaging and fun sport.
Notes: No class the first Monday of the month due to General Membership meetings. Please wear appropriate footwear.
Pre-requisites: Dogs must be able to come when called, sit, and stay. They should be not behave aggressively around other dogs.