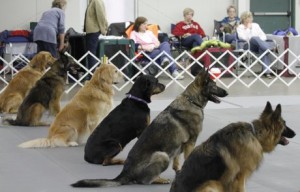 Interested in showing your dog in AKC obedience? Want to learn what it takes to prepare for Beginner Novice (BN) and the Companion Dog (CD) titles? Join us in this thorough, entertaining preparatory course that will get you and your dog energized and ready for the show ring.
Beyond the Basics: Introduction to Dog Obedience Competition
Instructor: Lieselotte Hookey
Time: 5:30 pm
Date: March 20-April 24
Cost: $100 nonmembers/$80 members
This popular class uses motivational and play-training methods to transition graduates of Basic and Intermediate dog obedience classes into preparation for the show ring. It introduces and reinforces ring set-ups; focused heeling; automatic sits; Figure 8s; fronts & finishes; and stands for examination. This class also introduces foundation skills for upper-level dog obedience competition (Open and Utility).