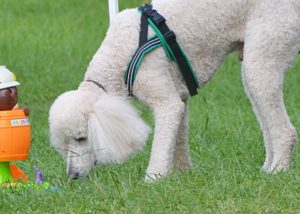 Thanks to everyone from me, Judy McPartland, and Lauren Walsh for their help with our UKC Nose Work Match.
We offered two trials on Saturday, December 10, with 65 completed P/T, Interior, and Container runs. Congratulations to everyone who participated, especially our High in Trial winners, Kathy Albasini (Trial 1) with Cassidy and Lauren Walsh (Trial 2) with Cash.
Thanks to Judy Rivard of Performance Scent Dogs who served as our very capable judge.
Judy McPartland served as Trial Secretary and Lauren Walsh as Volunteer Coordinator. Both put in many hours to ensure that our paperwork was accurate and that a small army could work together as quickly and efficiently as possible.
We would also like to thank:
Paula Botkin, Lorraine Smith, Marjorie Butcher, Cyndi Porter, and Judy Norton for help with set up Friday evening.
Nancy Petrone, Barbara Zaniewski, and Cyndi Porter for Saturday pre-trial tasks.
Charlotte Czermann, Marjorie Butcher and Peter Shrader for making coffee and getting lunch.
Lindsey Smith, Kathy Albasini, Angel Andrews, and Barbara Zaniewski for serving as gate stewards; Judy Norton for serving as cold box handler and timekeeper; and Charlotte Czermann for serving as hot box handler.
Page Hinds Athan generously donated our High in Trial trophies; Lorraine Smith contributed placement trophies.
Thanks again to everyone, and a special thanks to OTCPBC for allowing us to grow this sport in our building.
–Marti Hohmann