Two introductory Agility classes have bee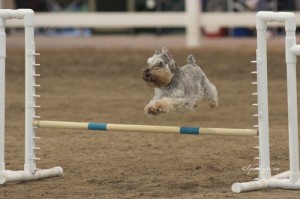 n added to the classes taught in March at Obedience Training Club of Palm Beach County. Both start on Monday, March 11 @ 6:30  and 7:30 pm.
Agility Focus Foundation
This class strengthens your dog's on-leash obedience skills like Sit, Stay, Down/Sphinx Down and Come When Called, Restrained and Distraction Recalls. It strengths his response to commands and focus around distractions. You will teach him to "heel" on both the left and right side of the handler. He will learn to read direction changes. You will start "targeting" work for agility. You and your dog will begin to work as an agility team.
Start time: 6:30 pm
Introduction to Agility
This 6-week class covers introduction of agility training and equipment, including on-going work on the basic obedience skills, and adding equipment such as the wobble and travel boards, jump work (designed for each individual dog's age, height and ability), tunnel and chute, channel weaves, pause table, and introduction to contact work on various equipment.
Start time: 7:30 pm
Both 6-week classes will be held indoors at 1250 Gateway Road, Lake Park, FL.
Cost: $120 nonmembers/$100 members.