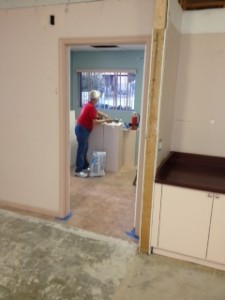 by Bob Millar
I want to thank the following members and spouses of club members who came to the building to help: Diane and Joe Wolak; Mary Macchia; Ann Levy; Janet Moore; Marjorie Butcher; Scott Craig; Bob Becker; John Kornmeyer; Gary Roche; and Page Athan.
We were able to power spray the entire bay area and use shop vacuums to suck up the water. There was a lot of team work in that effort. We used push brooms and a squeegee to control the water. Joe power-sprayed the doors on the south end of the building. The north side of the building's stucco got its first coat of paint and the south side got a second coat.
The trim and doors inside the three rooms got a coat of paint thanks to Kay Wheeler, who took time out of her busy week to come and help. The door was hung back onto the hinges in the kitchen. All of the cabinets were moved to the kitchen and other construction supplies were moved to the all-purpose room. The floors were dry-swept as soon as they dried.
Thanks to all of you who came out to help. Our facility is one step closer to its grand opening!