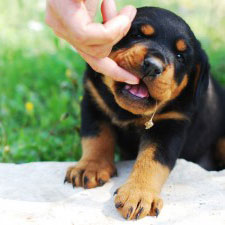 Your puppy's first lessons are important ones. He has to learn to love the whole wide world — and learn how to sit, too. It would also be great if he wouldn't chew your shoes  — or eat your reading glasses.
Please do not wait — start your youngster while he is still young — so that he can meet other puppies and people during the critical socialization window of 12-16 weeks of age.
Age Range for Puppy Class: 10 weeks – 4.5 or 6 months of age (depends on breed/size — see below).
Vaccination Requirement: Two sets of puppy shots (DHP or equivalent); Bordetella.
Medium- or large-breed puppies older than 4.5 months old should enroll in Basic Obedience. Small-breed puppies who weigh less than 20 pounds may stay in puppy class until they are 6 months old unless their level of maturity indicates that Basic is more appropriate. Ask for an evaluation if you are in doubt.
AKC STAR Puppy Class
Join us for this fast-paced combination of basic obedience, socialization, and confidence-building exercises. Puppies who attend all six classes are eligible for the AKC STAR Puppy Certificate. NO MAKE UP CLASSES will be offered — please plan to attend all six classes if you are interested in obtaining the certificate.
Please bring 30-50 training treats (not biscuits), a 5-6 foot leash, and your shot records. Puppies need two sets of shots plus vaccinations for Bordetella. Puppies may wear a martingale collar, head halter, or a front snap no-pull harness. Wear shoes you can walk and run in – no flip flops. Do not feed your puppy dinner before class.
Next Session
Start Date: Monday, November 12, 2018 @ 6:00 pm
Instructor: Angel Andrews
Cost: $99 (20% discount for members who worked 20 volunteers hours in 2017)
Duration: 6 weeks
You must attend all six weeks of puppy class to be eligible for the AKC STAR Puppy certificate.

 ___________________________________________________________
Intermediate Puppy Class
Intermediate Puppy is a continuation of the first puppy class, adding more skill while perfecting the skills introduced in the Star Puppy class. It is a great stepping stone before basic obedience.
Start Date: TBD
Instructor: TBD
Cost: $99 (20% discount for members who worked 20 volunteers hours in the prior 12 months)
Duration: 6 weeks
Upcoming Star Puppy Classes
Classes will open for registration approximately 6 weeks before start date.
Monday, January 14, 2019 @6:00 PM
Questions about Puppy Class?
Contact us at [email protected]
Class Cancellation Policy
Because class size is limited and sufficient time is necessary to contact alternate students, class tuition may only be refunded if notice, in writing or by email, is received seven (7) business days prior to the start date of a class by the instructor or the director.
Class registration closes 24 hours in advance of the class start date. You must pre-register and pay online in order to attend a class. Classes are subject to cancellation or date changes at the discrection of OTCPBC training staff.
OTCPBC does not offer partial refunds, transfers of monies from one class to another, or private instruction in lieu of group classes.
Questions about Obedience?
Contact us at [email protected]