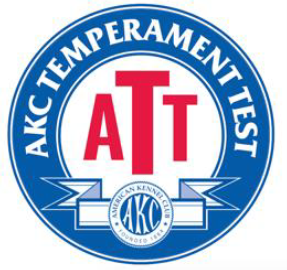 About the AKC Temperament Test
According to AKC, The AKC Temperament Test can provide you with interesting information about your dog's temperament. For purebred dogs, there is a national parent club for every AKC recognized breed. Each breed's national parent club has a written breed standard that includes information on the breed's temperament.
Taking the ATT allows you, the dog's owner, to determine how close your purebred dog's temperament is to the breed standard. For mixed breed dogs, taking the ATT may provide the dog owner with insight about the temperament of an individual dog.
Why an AKC Temperament Test?
The AKC Temperament Test (ATT) was developed to bring focus and provide a meaningful evaluation to assess the temperament of our canine companions.
What is tested?
The ATT tests how a dog reacts to a variety of stimuli. Desirable traits are that the dog will be emotionally stable, inquisitive, cooperative, appropriately social for its breed, biddable and demonstrates the ability to recover from a startling situation in a reasonable amount of time.
Undesirable traits are fear, shyness, lack of cooperation and an inability to recover from unfamiliar or unexpected situations. Examples of undesirable behaviors include being afraid of friendly strangers or unfamiliar stimuli, obsessive barking, and aggression.
In the ATT, dogs are tested in 6 categories of stimuli that include:
Social
Auditory
Visual
Tactile
Proprioceptive (motion)
Unexpected stimulus
AKC Temperament Test Title
If a dog passes the ATT on two occasions, under two different evaluators, the owner may apply for the AKC Temperament Test (ATT) suffix title.
AKC Resources
OTCPBC AKC TEMPERAMENT TESTS
Test Dates
Opening Date
Closing Date
Premium
May 31, 2023
Test A # 2023 0284 44 at 4:30 pm.
Test B # 2023 0284 45 immediately following Test A
5/10/2023 8:00 am
5/24/23 6:00 pm EDT
Temperament Test Premium May 31, 2023
Entry is online only. Entries are accepted on a First Received basis. Payment is via PayPal. A PayPal account is not neeeded. If you are using a credit card rather than a PayPal account, choose PayPal's "guest" or credit card option.
Entries without payment will not be accepted. Final verification of entries will be done by the secretary based on verification of entry counts. If you complete a paid entry, you will be notified by the Secretary to let you know whether or not you have a place in each test.
We will maintain a wait list to fill openings created by withdrawn entries.
Entrants that do not receive a spot in the test will receive a full refund.
Maximum of six dogs for each trial.
Closed.