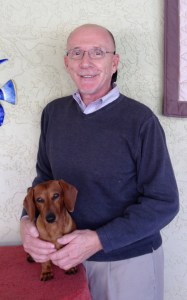 Steve Campbell, a Conformation judge with more than thirty years of experience, offering Conformation classes prior to area shows. While he exhibits in obedience and rally, his main function in the world of dogs has been breeding and showing Lhasa Apsos and mini smooth Dachshunds.
Conformation
Description Training the handler and dog in the art of showing their exhibits in the show ring to compete for points towards an AKC championship or to continue beyond that level. Though showing a dog looks easy, it takes some time to get the routine down. An experienced instructor will teach you and your dog exactly what is expected from you in the ring, from how to "stack," or pose, your dog to how to show the judge the bite, or teeth. There's a lot of jargon to learn, but your handling-class Instructor will get you up to speed.
Prerequisite: No prerequisites required, other than the dog must be able to heel on a show lead.
What to Bring: Bring yourself, your dog, treats for dog and a lead that can be used in the conformation ring.
Starts: TBD
Instructor: Steve Campbell
Duration: 6 weeks
Cost: $60 (20% discount for members who worked 20 volunteers hours within the last 12 months)
Facility Address: 1250 Gateway Road, Lake Park FL 33403.
We ask our Conformation/Breed Handling guests to potty their dogs in the pea gravel area next to the agility field and refrain from using the landscaping. No bitches in season, please.
Contact otcpbc@gmail.com if you are interested.