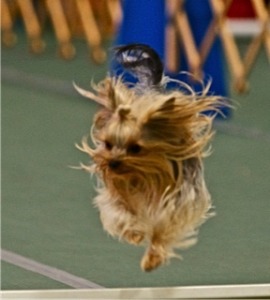 Obedience Training Club of Palm Beach County (OTCPBC) is a not-for-profit organization functioning under the rules and regulations of the American Kennel Club.
OTCPBC was founded in 1953, making it the oldest dog obedience training club in Palm Beach County, Florida.
Our members train their dogs to compete in AKC-sanctioned trials. We excel at dog obedience, rally, tracking, agility and scent work, and compete both regionally and nationally.
Located at 1250 Gateway Road, in Lake Park, Florida, our 5,000 square foot building is
climate-controlled and safe. We also have a full-sized agility field.
We believe training should be fun and effective. We play with our dogs and teach them how to run, jump, and retrieve. We practice together and prepare for trials. To give back, we take them into hospitals and nursing homes.
Each year, we host more than 40 trials in multiple AKC disciplines. Our club members include AKC judges in conformation, obedience, rally, tracking and scent work. We also offer three levels of AKC Canine Good Citizen testing (CGC, CGCA, CGCU), Tricks Testing, Therapy Dog International Tests and NACSW Odor Recognition Tests.
Although our members have trained multiple OTCH (Obedience Trial Champion), MACH (Master Agility Champion) and CT (Champion Tracker) dogs, we like to encourage novice dog enthusiasts. If this is your first foray into dog sports, you're more than welcome here.
All of our classes are open to the general public. We want to improve the lives of dogs and their owners by offering our excellence and expertise in dog training to everyone.