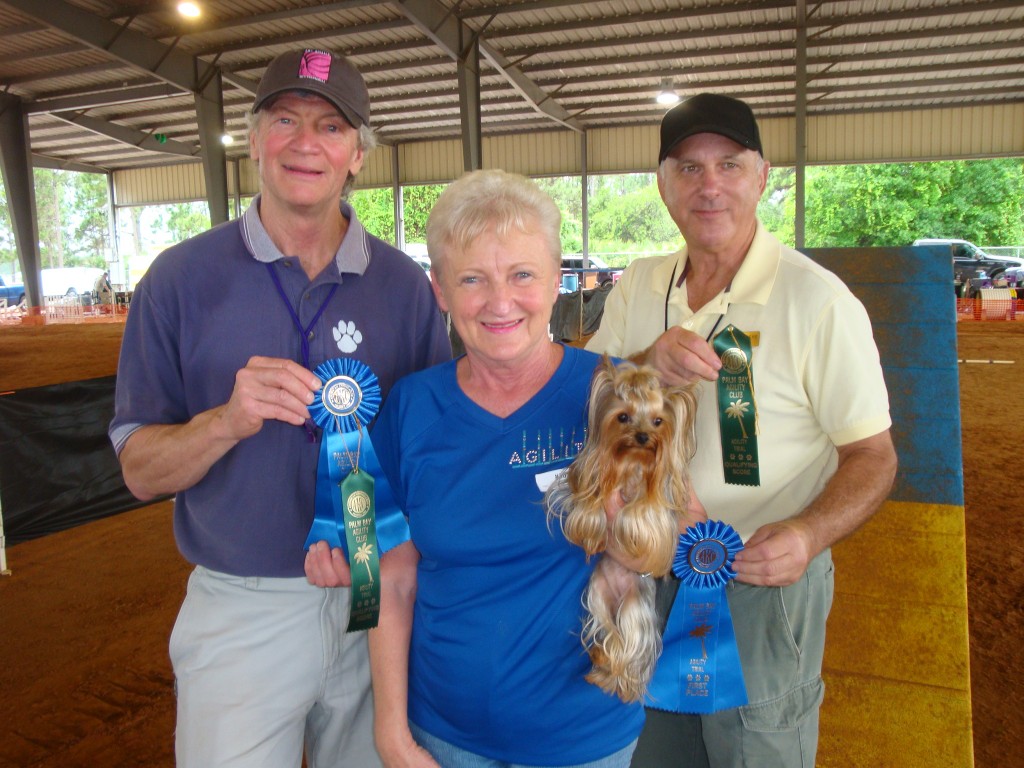 Membership Meetings
General Membership Meetings are held six times a year, usually on the first Monday night of the month at 7 pm at the Clubhouse, 1250 Gateway Road, Lake Park, FL. Dates of meetings are on our calendar. Currently and until further notice, meetings are being held via Zoom. Please use our form, Contact Us, if you need the Zoom invitation.
Betty Gansky and Angel
Membership Renewal
Membership is subject to annual renewal. Online renewal is available from September 1 – December 31 of the year preceding the upcoming membership year.
Prospective or New Members:
Here is the process by which you may become a member:
Get to know us: Register for a class; come train with us; come to our meetings and special events. Why? You will need two sponsors, and they will need to know you for at least 6 months. Also, we are a community of volunteers who organize and participate in dog sports together. It is vital that prospective members contribute to and cooperate with that community and help us offer quality services to nonmembers and members alike.
Arrange for your sponsors.
Obtain the membership application from one of your sponsors, complete the OTCPBC APPLICATION FOR MEMBERSHIP including signatures of your two sponsors.
Your membership application will be read by the club secretary at one meeting. You must be present for this reading.
Complete ten hours of volunteer service by volunteering at OTCPBC events.
At the second membership meeting, your membership application will be voted upon. You must be present for this reading.
The entire membership process may take from 60-90 days.
New members must pay by check made payable to OTCPBC.
We ask our members to be active in club events, volunteer their time at trials and public appearances, and attend General Membership meetings. Members must accumulate and maintain a balance of 20 volunteer hours in order to qualify for membership discounts.. Volunteer hours are recorded as a running total over a 12 month period.
Member registration for events includes attesting to the following: "Are you a qualifying member? Did you work the required volunteer hours within the last 12 months?"
Benefits
* Use of the facility
* Discounts on classes, seminars, and practice training sessions
* Participation in club extracurricular activities
* Club newsletter (Lead Lines)
Types of Membership
General
This level of membership entitles you to all the above benefits. In addition, you may run
for office and be appointed to a position.
Cost: $40
Household
Cost: $60

Associate
Associate members may not run for office or be appointed to positions.
Cost: $30
Junior
Junior members may not run for office or be appointed to positions.
Cost: $25
Requirements
Must be 18 years or older or, if junior member, 10-17 years of age
In good standing with American Kennel Club
Sponsored by two club members who have known you at least 6 months. Sponsors must have been OTCPBC members for at least one year.
Recording Your Volunteer Hours – Worker Rewards
Volunteer hours at a club event for activities such as stewarding, set-up, break-down need to be reported on the Volunteer Sign-in sheet at the event. The Volunteer coordinator for the event will then handle reporting those hours to the mailbox: otcvolunteerhours@gmail.com.
Class Refund Policy:
Members are subject to the class policies outlined in the Club Policies & Procedures (P&P) Manual. Because class size is limited and sufficient time is necessary to contact alternate students, class tuition may only be refunded if notice, in writing or by email, is received seven (7) business days prior to the start date of a class by the instructor or the director. OTCPBC does not allow for make-ups, drop-ins, the transfer of monies from one class to another, or private instruction in lieu of group classes.